The terrible truth about cancer patients in Ukraine
Free medicine, operations, medicines. That should be the law. And so it is in the bravura messages of the Ministry of Health. However, there is a fantastic parallel reality in Ukraine. One is for officials. The other is for patients. After all, relatives of cancer patients live in another world. Where to pay for surgery and medication. With a chance of last resort, Ukrainians are selling property and getting into debt. And at a time when officials on all sides are trumpeting about medical reforms, they are often terminally ill, in order to prolong their lives for at least a few months, they are forced to pay a lot of money to Ukrainian doctors. This is the way to the abyss of cancer patients in Ukraine.

(photo - "Lviv State Oncological Regional Medical and Diagnostic Center").

A short man came to the square. Hurrying to me, he moved from steps to running. His fingers trembled as he held out his hands to me. Out of the crowd, his eyes stood out. They were full of despair and despair.
Stepan Martynyk is tired of fighting. From the systematic search for money, sleepless nights, three jobs - and zero prospects for the future.
Three years ago, he was making plans, raising money for his parents - to finally send them somewhere on vacation at sea. His dreams remained unfulfilled.
Their family received a fatal diagnosis.
At first my mother fell ill
- Cancer takes everyone away and does not look at the profession, - says Stepan. -
Nadezhda's mother worked as an accountant. It's like it's not a difficult job to make a big impact on your health. In her 63 years, she had no problems or contacts with doctors as such.

When the bumps appeared on her chest, she didn't even pay attention to it. There is a self - and there is.
But in early 2017 - the nipple began to bleed. Even then she did not go to the doctors. The state of Ukrainian medicine causes people to distrust it.
But the situation was getting worse. Went to the clinic on Efremov. They took a puncture. Sent to the "Lviv State Oncological Regional Medical and Diagnostic Center" - to Hasek. So our life has changed dramatically.
The results showed - cancer. The word that was so far away on TV and in the pages of newspapers is now ingrained in our brains.
Tumor. It is necessary to operate - to remove mammary glands.
When we were placed in the soft tissue ward, doctors started going for "examinations". Decided - who will operate.
Mykhailo Mykhailovych Yolych, the head of the department, agreed.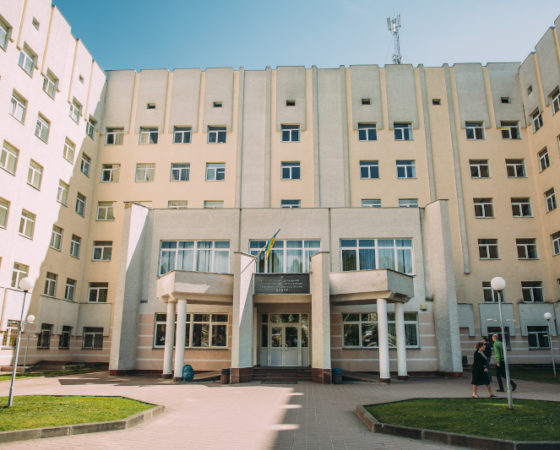 (Department of Soft Tissue Pathology. Photo - "Lviv State Oncological Regional Medical and Diagnostic Center").
"It's gratitude"
He called me to his office.
"You know that our operation is free. However, we usually give "thanks" to our doctors. This is a reward. I'm not saying how much to give. It is gratitude. But usually, we pay $ 300 for an operation to a doctor, $ 150 to an assistant and $ 150 to an anesthesiologist, "Mykhailo Yolych told me directly.
-
Stepan Martynyk says that he has already heard about a kind of "thanks" to doctors for the operation - from other patients and their relatives.
But such directness and sounding of specific numbers shocked him.
And I had to borrow money and pay.
Of course, Stepan can be blamed - they say, he gave. On the other hand, it is only in exposing anti-corruption stories and articles that such a phenomenon can be fought. When the situation does not concern you or your family.
When a person personally finds himself in trouble, and even in oncology, he has no choice. That is what doctors use.
After all, to go against the system is to turn all doctors against oneself. Especially in a state where the circular guarantee of bribery cuts justice
- But that was just the beginning. They wrote me a whole list - what to buy. The medical staff said so - we have nothing. I bought everything from cotton wool, gauze, drip systems, betadine and syringes.
After the operation - prescribed medication - maintenance therapy.
Here all our savings are over. I had to get into debt.
Pills were bought abroad, UAH 600 for 10 days. The oncology center said that the state does not provide such drugs. And the course of treatment is at least 2-3 years. -
Stepan did not cultivate illusions. The family bought everything the doctors said. He did not even think to contradict the doctors and demand some free medicine. It's about the mother's life. Where to quarrel with doctors.
Meanwhile, for several years now, the availability of medicines in medical institutions in Ukraine can be checked online. Of course, maybe not all of them are available - better ones, not of foreign production - but for hospitals to say that they do not have basic syringes, bandages, cotton wool is a bust on the part of the staff.
And it seems that this is a kind of selective attitude towards people.
Yes, I talked to a cancer patient who had more than one operation in the mentioned oncology center. He says that there were no hints of any "thanks". And completely all medicines were given to him. And all medicines were allocated free of charge. In the same institution.
So there is medicine and surgery will be done for free.
But not for everyone.
After all, the patient - with whom I interviewed - and for whom everything is free - is the doctor himself. He worked as a surgeon for twenty years, he can't count the number of operations he performed.
It was just beginning
- Cancer - second degree. But not everyone dies with it. Of course, we believed, - says Stepan. –
Moreover, my mother's condition was improving. It became easier, life was calmer.
But in 1.5 years - buttocks began to hurt.
We went to the clinic. They calmed down there - no problem. Like, inflammation of the sciatic nerve. Prescribed anti-inflammatory ointments. So we have medicine.
Although - as a cancer patient - the mother should have been immediately referred to the doctors who treat patients with oncology in the clinic.
But argue with them - inflammation of the sciatic nerve.
For several weeks we were treated like that - and we were sent to the oncology center only when my mother could not bear the pain.
They have already referred me for an MRI. We were pleasantly surprised. I thought - that's what has changed in medicine. After all, at the entrance to the office, and in the office itself - everywhere ads - "services are free."
Yeah - they dreamed. The employee in the office immediately said: "Our examination is free. But for its carrying out - it is necessary to make an injection. And it costs - 1800 hryvnias ".
So they cunningly do. What kind of injection, what it is for - do not explain. We had to pay them. Right in the office. No checks, receipts or charities. In cash.
My mother was diagnosed with multiple foci of cancer all over her body.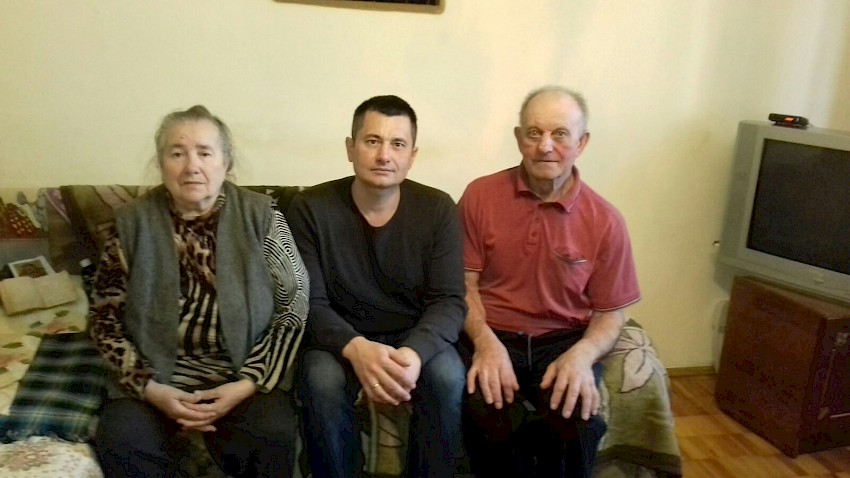 You know - when this situation - you do not think - whether the requirements of doctors and staff are legal. You just pay as much as they say. You pay for everything. And to all. Even nurses and orderlies.
We were prescribed "tar acid", the only drug that was given to us in the institution. It was leaked to us twice. But again - said to buy a solution of sodium chloride. And even - banal plasters. -
Nothing helped Stepan's mother. The pain got worse. Prescribed tramadol. No results. Prescribed morphine.
Subsequently - "Ibandronic acid". The price of the drug abroad - 1800 UAH - per reception - once a month.
After seven drips - in 2019 - the situation has stabilized.
Stepan's family believed in a miracle - they did a scheduled ultrasound in 2020 - the metastases went to the liver. Liver cancer.
Ahead - tablet chemistry - 2400 hryvnias for 3 weeks. Treatment is permanent.
- We were told that the oncology center has analogues - domestic. But they say - much, much worse. So - we advise you to buy abroad. -
We have a strange situation in medicine. Why does the Ministry of Health take funds from the Ukrainian budget and buy drugs that are ineffective and doctors themselves do not recommend using them?
The cancer was also found in the father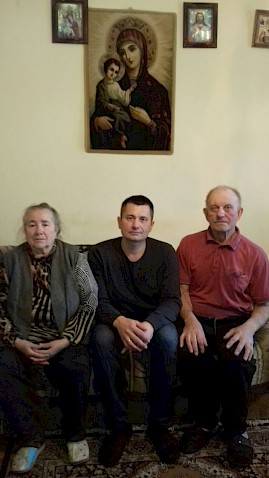 - And now as a situation, - I ask.
Stepan turns away. No - he's not crying. He no longer has the strength or the tears.
"Some kind of curse," he says. -
It must be so. Mom got better. And here is Dad. Last year. A mole on the shoulders. I understand that we, relatives, do not understand this very well.
But that the doctor from the clinic, the surgeon - could not find anything in the early stages. I then read and learned that according to medical protocols, when the mole is wet, and there is a strong discharge - the doctor should immediately refer for cancer tests.
And he treated us, cut us.
In three weeks - called to himself. His hands are shaking - he doesn't really explain anything - only then he directed us to the oncology center.
Conducted histological examination. Grade 4 melanoma. Its metastases affect all surrounding organs.
Everything is new. We were told to buy all the medicines again. Banal - even bandages and alcohol.
For the operation, I gave the operating doctor Igor Protsko $ 150. I will not talk - he personally did not say anything. No hint. But patients from the wards, their relatives - called such a figure. Everyone paid.
After the operation, the doctor said. Prolonged treatment is required to stop the process. We have drugs that are free, they are very harmful. It is desirable for you to buy abroad. "Keytruda".
For me, it became like the death sentence of my father. After all, the cost of treatment is 110,000 hryvnias for one course. It takes three. we had no money. a few months ago my father died.
Free - paid medicine
Is Stepan's story isolated? No. While preparing this project, I talked to several dozen patients and their relatives. Except for the mentioned surgeon, everyone reported that they paid money for the operations.
But when it comes to the dictaphone on, people don't want to say it. Neither to name doctors, nor to announce sums.
- We paid 10,000 hryvnias, - one of cancer patients tells me on record. But I don't want you to call both me and the surgeon. –
Blame patients and criticize? Is it necessary or not?
Is it possible to understand patients and their relatives? Probably, those who found themselves in a similar situation will understand. And here these people do not differ in defending the truth and justice. In order not to give bribes. And demand free medicine.
This is no longer different - when life is at stake - usually incurably ill.
Stepan asks to save his mother's life
We say goodbye to my husband, I promise to post his request to readers - with a call - to save his mothers's life.
So, if you have the opportunity - you can provide charitable assistance for the purchase of drugs "Keytruda". Fate estimated the life of Stepan's mother - thousands hryvnias. We can save him. Bank details:
Одержувач
Beneficiary
ACC.No
IBAN
EUR
UA193348510000026201113870910
Найменування : Мартиник Степан Борисович
Name: Martynyk Stepan
Адреcа :Україна,79000,Львівська обл.,місто Львів,вул..Патона 2/5,кВ.12
Банк одержувача
Account with institution
S.W.I.F.T.-
BIC:
FUIBUA2X
FIRST UKRANIAN INTERNATION BANK
4 ANDRIIVSKA STR.,KYIV,04070 UKRAINE
Одержувач
Beneficiary
ACC.No
IBAN
EUR
UA193348510000026201113870910
Найменування : Мартиник Степан Борисович
Name: Martynyk Stepan
Адреcа :Україна,79000,Львівська обл.,місто Львів,вул..Патона
2/5,кВ.12
Банк
одержувача
Account with
institution
S.W.I.F.T.-
BIC:
FUIBUA2X
FIRST UKRANIAN INTERNATION BANK
4 ANDRIIVSKA STR.,KYIV,04070 UKRAINE
Банк-
кореспондент
Intermediary
S.W.I.F.T.-
BIC:
COBADEFF BBRUBEBB
Commerzbank
AG,Kaiserplatz,
60261,
Frankfurt am
Main,Germany
ING BELGIUM
SA/NV
BRUSSELS ,
Avenue Marnix
24, 1000
Brussels,Brussels-
Capital,Belgium
Деталі платежу
Details of payment NON-COMMERCIAL TRANSFER
Intermediary
Банк-посередник
KBC BANK NV,Brussels,Belgium
SWIFT:KREDBEBB
or/або
COMMERZBANK AG,Frankfurt,Germany
SWIFT:COBADEFF
or/або
UNICREDIT S.P.A.,Milano , Italy
SWIFT:UNCRITMM
or/або
RAIFFEISEN BANK INTERNATIONAL
AG,Vienna,Austria
SWIFT:RZBAATWW
Beneficiary's bank
Банк-одержувач
JSC KREDOBANK Lviv,Ukraine
SWIFT:WUCBUA2X
Beneficiary
Одержувач
Name
IBAN
STEPAN MARTYNYK
UA513253650000026200011474888
What the law says
Oleh Mytsyk is a well-known Ukrainian human rights activist and lawyer. He agreed to the interview and told how the situation in Ukrainian medicine can be considered and interpreted from the point of view of jurisprudence.
- Doctors under no circumstances, whether it's just a doctor or an official (a medical official, for example, the head of the department), have no right to receive illegal benefits, - says Oleg Mytsyk. -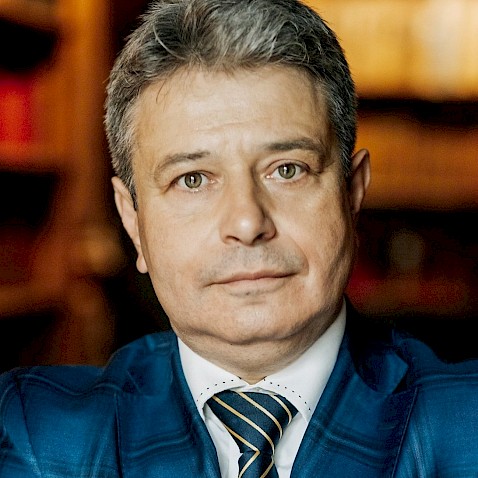 This is a bribe. There is no word for "thanks." The doctor cannot legally receive any funds from the patient. –
- We are simulating a case - I come to the doctor, one of my relatives has cancer, the doctor does not require any money. It doesn't even hint at all. The operation is performed. After that we pay him money ... - I say.
—Yes, and this is an illegal benefit. -
- But this is "thanks", you come - see a doctor! -
- Has no right to receive illegal benefit. -
- How are such actions qualified in the criminal code? –
- At the usual doctor it is h. 3 Art. 354 of the Criminal Code of Ukraine. This is punishable by criminal liability, including imprisonment for up to two years. It should be understood that this act is criminalized. -
- Well, and if it is the head. branch? -
- These actions will be qualified under Art. 368 of the Criminal Code of Ukraine. And the punishment - depending on the direction of action: a group of people, whether it was combined with extortion or not, or receiving a bribe, in order to influence another doctor. –
- Why do people - say that medicine is corrupt, fight on Facebook, why none of the relatives write a statement to the doctors - who demand funds for treatment? -
- One in the field is not a warrior. Solidarity. There is no inevitability of punishment. –
- Is the head of the hospital, which operates. A person comes with his mother, who has cancer. And that's it, agreed on the operation. And he says directly: the operation, you know, is free in our state clinic. But usually, people thank me for the operation. But you understand - it's all voluntary. But usually people thank $ 300. -
-— These people are put in a more difficult situation, because as a rule, some of those people are terminally ill. And they are very dependent on the quality of the operation. Any illegally obtained benefit - even "gratitude", even after the operation - is criminalized, - sums up lawyer Oleh Mytsyk.
Fate estimated the life of Stepan's mother - thousands hryvnias. We can save him. Bank details:
Одержувач
Beneficiary
ACC.No
IBAN
EUR
UA193348510000026201113870910
Найменування : Мартиник Степан Борисович
Name: Martynyk Stepan
Адреcа :Україна,79000,Львівська обл.,місто Львів,вул..Патона 2/5,кВ.12
Банк одержувача
Account with institution
S.W.I.F.T.-
BIC:
FUIBUA2X
FIRST UKRANIAN INTERNATION BANK
4 ANDRIIVSKA STR.,KYIV,04070 UKRAINE
Одержувач
Beneficiary
ACC.No
IBAN
EUR
UA193348510000026201113870910
Найменування : Мартиник Степан Борисович
Name: Martynyk Stepan
Адреcа :Україна,79000,Львівська обл.,місто Львів,вул..Патона
2/5,кВ.12
Банк
одержувача
Account with
institution
S.W.I.F.T.-
BIC:
FUIBUA2X
FIRST UKRANIAN INTERNATION BANK
4 ANDRIIVSKA STR.,KYIV,04070 UKRAINE
Банк-
кореспондент
Intermediary
S.W.I.F.T.-
BIC:
COBADEFF BBRUBEBB
Commerzbank
AG,Kaiserplatz,
60261,
Frankfurt am
Main,Germany
ING BELGIUM
SA/NV
BRUSSELS ,
Avenue Marnix
24, 1000
Brussels,Brussels-
Capital,Belgium
Деталі платежу
Details of payment NON-COMMERCIAL TRANSFER
Intermediary
Банк-посередник
KBC BANK NV,Brussels,Belgium
SWIFT:KREDBEBB
or/або
COMMERZBANK AG,Frankfurt,Germany
SWIFT:COBADEFF
or/або
UNICREDIT S.P.A.,Milano , Italy
SWIFT:UNCRITMM
or/або
RAIFFEISEN BANK INTERNATIONAL
AG,Vienna,Austria
SWIFT:RZBAATWW
Beneficiary's bank
Банк-одержувач
JSC KREDOBANK Lviv,Ukraine
SWIFT:WUCBUA2X
Beneficiary
Одержувач
Name
IBAN
STEPAN MARTYNYK
UA513253650000026200011474888
This material has been prepared and funded - The European School of Oncology (Milan, Italy) - https://www.eso.net/